Protective Mouthguards
Mullaloo Dental Fitted Nightguards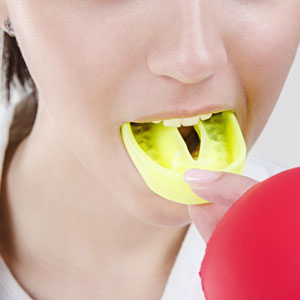 Healthy tooth enamel is the strongest substance in your entire body. But with excessive grinding, tension or accidental trauma, even strong teeth can break and wear down.
Fortunately, our protective mouthguards and custom nightguards act to reduce your risk of conditions such as:
TMJ disorder
Bruxism (grinding and clenching)
Emergencies
Athletic injuries
Concussion
Worn teeth
…as well as preserve the integrity of recent restorative or cosmetic dental work that you may have invested in.
When to Wear a Mouthguard
Daytime mouthguards are typically worn during athletic events, while smaller bite splints can be worn while driving and working. The advantages of a professionally fitted mouthguard surpass those of store-bought guards that fit more loosely or are too bulky to comfortably wear.
A custom mouthguard will provide protection in the event of an injury, without having to worry about the mouthpiece falling out during secondary trauma. If you or your child is involved in a contact sport such as football or lacrosse, a professionally fitted guard will offer the best defence against an emergency.
Do You Need a Nightguard?
During your dental exam, Dr Steven Cadee (Dentist) will evaluate your bite and facial muscles for signs of tension and wear. If we suspect that you may be clenching and grinding your teeth when you sleep, a nightguard can help to ease muscle fatigue and damaged teeth.
If you've recently completed a smile makeover with porcelain veneers or crowns, we recommend sleeping in a nightguard for preventative purposes.
Get Your Custom Mouthguard Today
All that's necessary to have a mouthguard or nightguard made is an impression of your teeth. This visit is relatively simple and only takes a few minutes. After we have the mould of your mouth, we create the guard and have it ready to pick up within a few days.
Contact us today to get yours!

Custom Mouthguards Mullaloo, Kallaroo, Ocean Reef, Hillarys WA | 08 9307 6055