Cosmetic Dental Veneers
Dream Smiles at Mullaloo Dental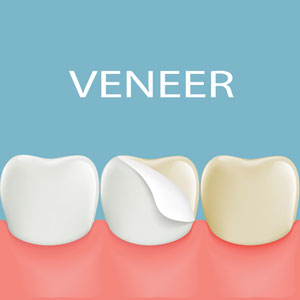 Porcelain dental veneers are cosmetic restorations that mask aesthetic irregularities on your natural teeth. Instead of covering your entire tooth with a ceramic crown, Dr Steven Cadee (Dentist) can apply a thin shell over the front of each one, making it instantly appear:
Whiter
Straighter
Properly shaped
Correctly sized
The Porcelain Veneer Treatment Process
The first step to getting dental veneers is to schedule a consultation with Dr Cadee to discuss things like what you want to change about your smile, characteristics you like/don't like, your budget and time frame.
From here, we'll propose a plan as to how many veneers are necessary and which aesthetic characteristics they should feature. Depending on your anatomy, you may need anywhere from 6-10 veneers across the teeth that are visible when you smile. Some people also choose to have veneers placed on their lower front teeth to accentuate their new upper veneers.
From preparation to placement, the entire process requires a total of 2-3 appointments to complete. In most cases, getting veneers spans the length of about two weeks from start to finish.
Same-Day Composite Chairside Veneers
When you only need one or two teeth to be corrected, a chairside composite veneer is the fastest and most affordable solution. Instead of being made off-site by a lab, these cosmetic restorations are shaped and bonded directly to your tooth by Dr Cadee for immediate results.
Affordable Financing Plans
Because veneers are a cosmetic and elective procedure, they're not typically covered by health funds. We offer free financing plans to easily fit treatment into your budget. You'll receive an itemised care plan and list of estimated fees at the time of your consultation, before starting any type of treatment.
Veneers can be combined with other cosmetic services such as teeth whitening, crowns and implants. Find out which option is right for you. Contact us today to schedule a complimentary evaluation!

Dental Veneers Mullaloo, Kallaroo, Ocean Reef, Hillarys WA | 08 9307 6055