Dental Crowns and Bridges
Enhancing Smiles at Mullaloo Dental
When you want a beautiful smile but also have damaged or missing teeth, we offer the perfect restorative solution: custom porcelain crowns and bridges.
Dr Steven Cadee (Dentist) understands that to create a beautiful smile, careful attention must be given to everything from the tooth shape and contour to the colour and hue. We work closely with local lab experts to tailor your treatment in a way that both protects your oral health as well as enhances the overall appearance of your smile.
Porcelain Dental Crowns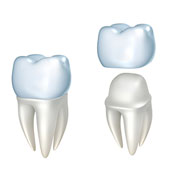 Perhaps you've been considering getting dental veneers but have teeth that are not healthy enough to support a cosmetic restoration. Porcelain crowns serve a dual purpose, in that they both protect the underlying tooth as well as enhance the way it looks from the outside.
You may need a crown if your tooth has been affected by:
Extensive decay
Large cracks
Excessive wear
Fixed Bridges for Missing Teeth and Implants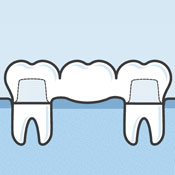 When you take a book off of the shelf, the other books often tip inwards or slide out of place because of the newly created space. The same can be said for your smile. Missing teeth don't just affect your chewing in one specific area; they can alter the alignment of your entire bite (even the opposing arch).
A dental bridge eliminates the empty space by supporting an artificial porcelain tooth between two functional crowns. Either end can be stabilised by healthy teeth or dental implants.
Schedule Your Consultation Today
Have questions? Concerns? We invite you to book a no-pressure consultation to discuss your dental needs with Dr Cadee and to find out what options are available. As a patient-driven practice, your needs always come first.
Flexible financing options are available. Contact us today to get started!

Dental Crowns and Bridges Mullaloo, Kallaroo, Ocean Reef, Hillarys WA
08 9307 6055