Creating Brighter Smiles
Teeth Whitening at Mullaloo Dental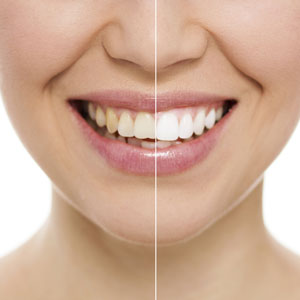 When you think of a beautiful smile, what comes to mind? Perhaps the first thing you picture is white, gleaming teeth.
A white smile is often a reflection of both good oral health and vitality. Unfortunately, not all of us are born with naturally bright teeth. And as we get older, our tooth enamel absorbs even more stains to make the enamel lose what lustre it already had.
To erase dark stains and natural discolouration, we offer professional teeth whitening treatments that are both safe and effective.
In-Chair (Same-Day) Whitening
Want white teeth in one day? If you need to look your best for an upcoming job interview or wedding, or just want to pamper yourself, our same-day whitening treatments are the best option.
Sit back, relax and we'll do the rest. Concentrated Polar White gel is applied to your teeth and then triggered with a bright light for fast oxidation of stain particles. After 2-3 applications (around 60-90 minutes total) you'll see significant results.
Professional Take-Home Whitening Kits
For people always on the go, the ease and convenience of whitening trays offer better results than products sold at drugstores. First, we fit your teeth with a tray that forms snuggly around each tooth. Then you apply a small amount of concentrated whitening gel into the tray and wear it for an hour a day. In just 10-14 days, you'll see the full results.
Touch up your whitening at any time to keep your smile bright. We recommend a 3-5 day booster application after each dental checkup.
The Perfect Start Towards a New Smile
If you're considering a smile makeover or want an affordable cosmetic treatment that enhances all of your teeth, then whitening is an excellent choice to consider. Book an exam at Mullaloo Dental to find out if your teeth and gums are healthy enough. Then, we'll talk about which type of application method is best for your specific tooth type.
A brighter smile could be just one dental appointment away. Contact us to get started!

Teeth Whitening Mullaloo, Kallaroo, Ocean Reef, Hillarys WA | 08 9307 6055