Dental Implant Restoration
Tooth Replacement Treatment at Mullaloo Dental
Dental implants are one of the most successful and biocompatible ways to replace missing teeth. Instead of wearing a traditional bridge or removable denture, implants offer a permanent stabilised restoration that mimics the appearance and design of your natural smile.
Single Tooth Implant Crowns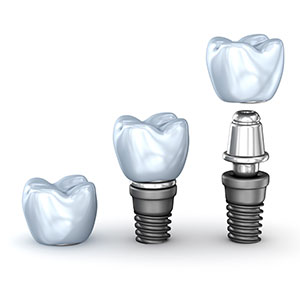 In the past, having a missing tooth meant putting a bridge over the teeth adjacent to it to fill in the gap. Otherwise, neighbouring teeth would start to move and drift out of place. But traditional bridges require removing healthy tooth structure from otherwise virgin enamel, making them a semi-invasive treatment for your smile as a whole.
With individual dental implants, we can affix a permanent porcelain crown over an artificial tooth root, so that you're left with a "new tooth" that looks and feels almost like the real thing. In fact, your new implant and crown are just as easy to care for as the rest of your teeth.
All-on-4® Implants
When you need to replace all of your upper or lower teeth at one time, we can use as few as four strategically placed implants to secure a hybrid, streamlined denture.
Unlike a conventional prosthesis, an All-on-4 denture is more like an extended dental bridge that follows the contour of your bite. There is no bulky plate to cover the roof of your mouth, making this option:
More comfortable
Easier to speak with
Stable during meals
Non-removable
Which Implant Is Right for You?
If you're considering dental implants or want to find out whether you're a candidate, we invite you to schedule a consultation at our practice. We work with local surgeons who place the implant, and then Dr Steven Cadee (Dentist) attaches the customised restoration here in our practice.
Enjoy the confidence of a new smile that's designed just for you. Contact us today to schedule an exam!

Dental Implants Mullaloo, Kallaroo, Ocean Reef, Hillarys WA | 08 9307 6055